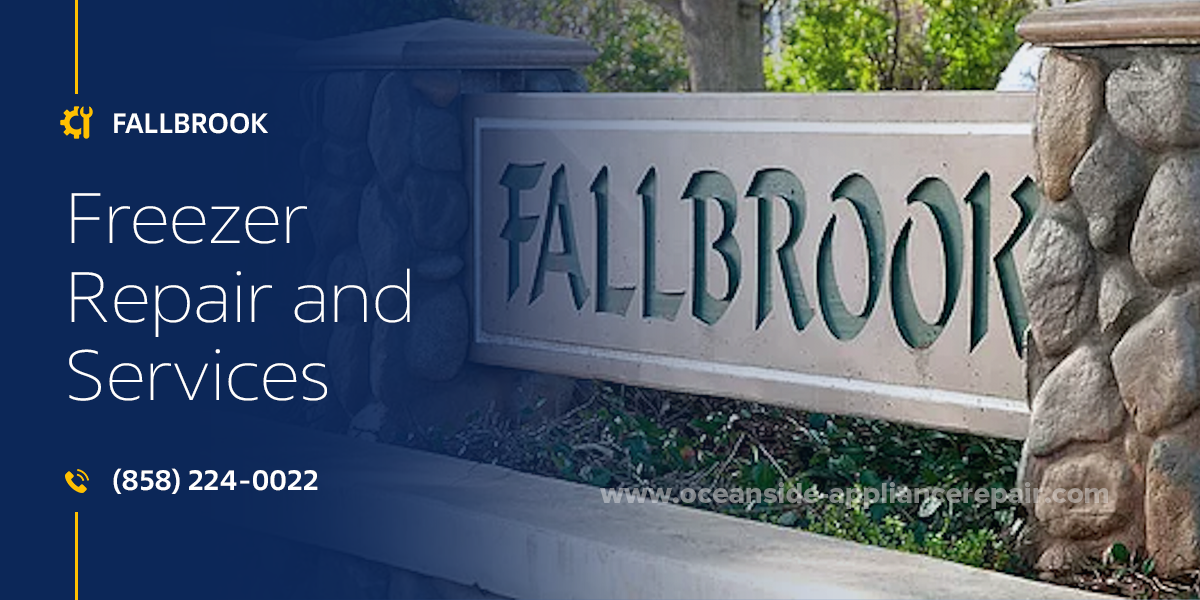 Freezer Repair in Fallbrook
If you are looking for a high-quality Freezer Repair in Fallbrook, CA, here is the answer! Oceanside Appliance Repair Service Center specializes in providing decent maintenance and fixing procedures. And we have been successfully developing it since 2001. Our team consists of top-level professionals who know everything about the functioning and construction of freezers. Thus, in any situation, we provide you with the most effective services. By applying to us, you get brilliant results in the shortest terms and at favorable prices.
Our goal is to ensure that your appliance functions flawlessly. For that, we use the best diagnosing and fixing equipment, tools, and materials. Each part of the unit has an important role in the smooth and durable performance of your freezer. Thus, we apply perfectly fitting details sourced from reputable suppliers, ensuring the integrity of the repair. We stand for the highest quality and reliability in each Fallbrook Freezer Repair we conduct. You can be calm about it. Being responsible for our work, we provide a 1-year guarantee for details and a 90-day one for labor.
Our qualified team possesses the expertise to handle freezers of all brands and models, including luxury and the latest. They update and develop their knowledge and skills all the time, ensuring efficient and lasting solutions. By picking us for Freezer Repair in Fallbrook, CA, you get assistance from a responsible, skilled, and competent team. With us, your commercial or household freezer is in reliable hands.
Regardless of what happened, our specialists can easily eliminate any issues. The most common troubles that you may want to resolve in your freezer are…

The device shuts off by itself, repeatedly turns on and off, or cannot turn on.

Problems with the control module (it needs recalibration, the controllers are unresponsive or have a loose connection, or the screen displays an error or is blank).

The automatic defrost feature does not work.

Squealing, buzzing, bubbling, humming, grinding, thumping, knocking, or other unusual noises are coming from the freezer.

Unstable or disrupted power supply.

The latches, hooks, interlocks, lid switches, gaskets, hinges, springs, or joints on the door are broken, so it cannot latch, close, or open normally.

The item freezes excessively, insufficiently, or unevenly.

Some component, such as a hose, pipe, compressor mount, belt, leveling foot, seal, bearing, wire, plug, button, knob, switch, handle, water inlet valve, fuse, or similar, has worn out or been damaged.

The appliance completely stopped freezing.

The freezer's walls, coils, and contents are all covered in ice- or snow-like accumulation.

The freezer smells foul.

A defrost heater, defrost timer, thermostat, vents, icemakers, evaporator, compressor relay, compressor motor, condenser coils, relay switch, condenser fan, evaporator fan, overload protector, or another component has failed.

The cooling liquid or water is leaking or dripping.

The drain tube, defrost drainer, or drain pan are blocked, and the condenser or evaporative coils are covered in dust or ice.

The door, the body, or the shelves are broken.

The lamps on the inside or LED indicators on the outside are flickering or not glowing.

The door, the body, or the shelves are broken.
Do you face any of those or other malfunctions in your freezer? Do not hesitate to call us! Our friendly team will gladly provide you with a free consultation or remote diagnostic. We are always available to share expert advice and recommendations, guiding you toward the best course of action. 
Sometimes it is enough to just follow our simple instructions by phone. But it may also happen that the only way out is to replace your appliance. Surely, we will honestly inform you if so. But mostly, to get your item back to normal, you just need to apply to us for Fallbrook Freezer Repair and Service. In any situation, we find the most comfortable and cost-effective solution for you personally.
The financial aspect always worries people. But not the ones who apply to us! Our company has fair and transparent pricing for any Freezer Repair in Fallbrook, CA. We aim to make a decent service affordable for everyone. Thus, we adapt to any budget and always set the most reasonable rates. Returning clients have an even more pleasant deal, as the next order is 15% cheaper for them. Veterans and seniors get a $30 discount. And for online booking, you get a $25 off price.
Adequate rates are just one feature that shows our care for clients' satisfaction. But it is not the only one. We pay attention to all your requirements and have a personal approach to each customer and appliance. Thus, our clients get the best Fallbrook Freezer Repair and apply to us for other services too. They recommend us to other people and leave numerous positive reviews on the net. Such feedback and their trust are the reasons for our successful competition with other local companies for over 20 years.
Another benefit is the speed of our work. A fully functioning freezer is essential, so we strive to resolve any issues with it ASAP. And in over 90% of orders, your appliance runs properly again the same day you apply. 
For those cases when even minimal downtime is not acceptable, rely on our urgent arrival. In such cases, we rush to provide you with Freezer Repair in Fallbrook, CA immediately! This option is available even during days off and after hours for a small additional payment. Our local department is conveniently situated, and our team is perfectly organized. Thus, we can offer the swiftest assistance in any case.
Oceanside Appliance Repair Service Center is a company you can rely on at any time. With our vast experience, flawless workmanship, and responsibility, we are dedicated to resolving your freezer issues promptly and effectively. When it comes to high-quality Fallbrook Freezer Repair and Service, our company is the ideal choice. All you need to do is just call us or place an application online. Trust us for the most effective and swiftest solutions at the best price!
Our specialist carries out repairs, works carefully in the process, so as not to leave behind any traces of equipment repairs, and not to spoil the appearance. After the repair is completed, our company will back it up with a 90-day labor warranty. If you encounter the same problem during the warranty period, rest assured we will return to get an appliance back up to perfectly working condition.
$30 OFF ON FIRST TIME SERVICING
Frequently asked questions
What if I have a complex repair of equipment?
Our specialist will come to your home, conduct diagnostics and offer solutions to the problem. And only after your consent, the repair will begin.
Do you have customer support?
Our managers will always listen carefully to you and give you initial recommendations on the malfunction of your equipment to determine the cost of repair. Call:
(858) 224-0022
Is the expert's visit free of charge?
If you order a call to the master through our website, you are guaranteed to get a free diagnosis of your device, and detection of breakage.