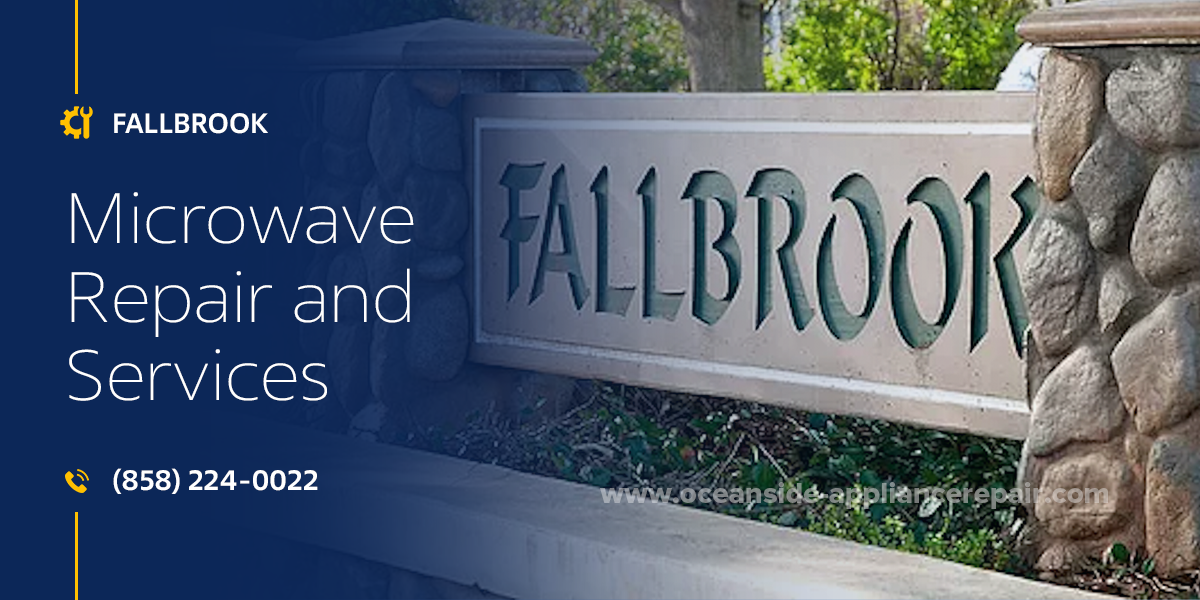 Microwave Repair in Fallbrook
Daily use of a microwave is a lifesaver for many people at home, school, and the workplace. Thus, if it works incorrectly or does not work at all, the solution should come quickly. You can avoid or fix such a situation if you apply to Oceanside Appliance Repair Service Center. Since 2001, we have been providing high-quality services for microwaves, offering the best prices and comfortable conditions. Contact us anytime to get the most effective Microwave Repair in Fallbrook, CA in the shortest time possible.
With over 20 years of experience in microwave repair, our licensed technicians bring unparalleled professionalism to any situation. Having perfectly honed skills and broad knowledge, they restore the proper functionality of any appliance swiftly and fluently. Our team provides excellent-quality Fallbrook Microwave Repair for items of all brands and models. To be up-to-date and most useful for you, we keep track of the constant development of our technicians. Thus, they regularly undergo training and get licenses to serve any units, including luxury and the latest ones.
The responsibility and qualification of our team also mean the quickest implementation of all orders. We minimize any disruption to your daily routine. For that reason, we provide same-day Microwave Repair in Fallbrook, CA for the absolute majority of orders. And for those who cannot wait at all, we have a special additional option. For just a small extra payment, you can get an urgent arrival of the specialist. We rush to your place within 15 minutes, even on days off and after hours. 
Contrasting high speed, we have low prices. With us, decent Fallbrook Microwave Repair and Service are affordable for everyone. We adjust to any budget and set the fairest rates for each procedure. You can be sure of not facing any overcharging or hidden fees with us. When you book an order online, you also get a $25 discount. Returning clients enjoy a 15% off price. For veterans and seniors, the price is always $30 lower.
Offering the most reasonable prices, we never sacrifice the quality of our work. The talk here is about spare parts, as their replacement is one of the most common services needed. We stock a vast variety of original components and their top-notch analogs. It lets us pick a perfect match and provide the most durable Microwave Repair in Fallbrook, CA. With the help of the best professional equipment, tools, and materials, we ensure the reliability and longevity of each procedure. To prove our responsibility to you, we provide a 1-year warranty for details and a 90-day one for labor.
Over the years, we have amassed a large base of satisfied clients who have experienced our exceptional service. Their positive feedback is a testament to our commitment to customer satisfaction. Our clients recommend us to others as a trustworthy provider of the greatest Fallbrook Microwave Repair and other services. Thus, they confidently entrust all their household and commercial electronics to us. You can see their honest opinion in numerous comments and 5-star reviews on the net and on our Google page.
Whenever you have questions or want to plan proper maintenance or repair, just contact us. We offer a free consultation to assess your microwave's issues and provide expert advice. Additionally, our skilled technicians use effective remote diagnostic techniques to identify problems swiftly, saving you time and hassle. It lets us find the reason for the problem, indicate the best solution, and announce the cost of the work beforehand. We offer only rational and cost-effective Microwave Repair in Fallbrook, CA. Thus, if fixing your item is not recommendable, we will honestly inform you.
There are many troubles that happen with microwaves. If you want to have this item serve you properly for a long time, never ignore even the smallest ones. Feel free to contact us if you notice any of these or other issues:

Troubles with the control panel, so you cannot turn on the item or use it properly.

The display board is not shining, or it shows an error message.

Touchpads, buttons, keys, knobs, or switches do not respond, have a loose connection, or require replacement.

The microwave stopped heating.

The item is heating unevenly, too slowly, or insufficiently.

The appliance shuts off or pauses abruptly, cannot start or complete heating, or is heating non-stop.

The lamp or LED indicator is going on and off or is not shining.

The roller ring stopped rotating.

The cooling fan, drive motor, waveguide, main control board, air vent, thermal protector, thermal fuse, high-voltage capacitor or transformer, magnetron, diode, heating tan, or other hardware is dysfunctional.

The appliance is sparking, arcing, smoking, or producing a burning or electrical smell.

The electricity supply is disrupted.

Worn-off isolation, wiring, plug, rack mount, turntable ring, coupler, waveguide cover, leveling feet, blades, handles, or other details should be replaced.

The heating tan or air vent is obstructed.

The item is buzzing, humming, vibrating, rattling, thumping, squealing, or making other improper noises.

The door glass is cracked.

The door cannot close, open, or latch normally due to deformed hinges, springs, latches, interlocks, lid switches, hooks, or seals.
Oceanside Appliance Repair Service Center makes any microwave run like a clock again in the most comfortable way for you. Our brilliant quality, competitive pricing, and high speed ensure minimum stress. We pay attention to your requirements and always provide flawless results. And to get the best Fallbrook Microwave Repair and Service, you just need to do one thing. Call us or place an online application on our website, so your item gets back to normal soon!
Our specialist carries out repairs, works carefully in the process, so as not to leave behind any traces of equipment repairs, and not to spoil the appearance. After the repair is completed, our company will back it up with a 90-day labor warranty. If you encounter the same problem during the warranty period, rest assured we will return to get an appliance back up to perfectly working condition.
$30 OFF ON FIRST TIME SERVICING
Frequently asked questions
What if I have a complex repair of equipment?
Our specialist will come to your home, conduct diagnostics and offer solutions to the problem. And only after your consent, the repair will begin.
Do you have customer support?
Our managers will always listen carefully to you and give you initial recommendations on the malfunction of your equipment to determine the cost of repair. Call:
(858) 224-0022
Is the expert's visit free of charge?
If you order a call to the master through our website, you are guaranteed to get a free diagnosis of your device, and detection of breakage.