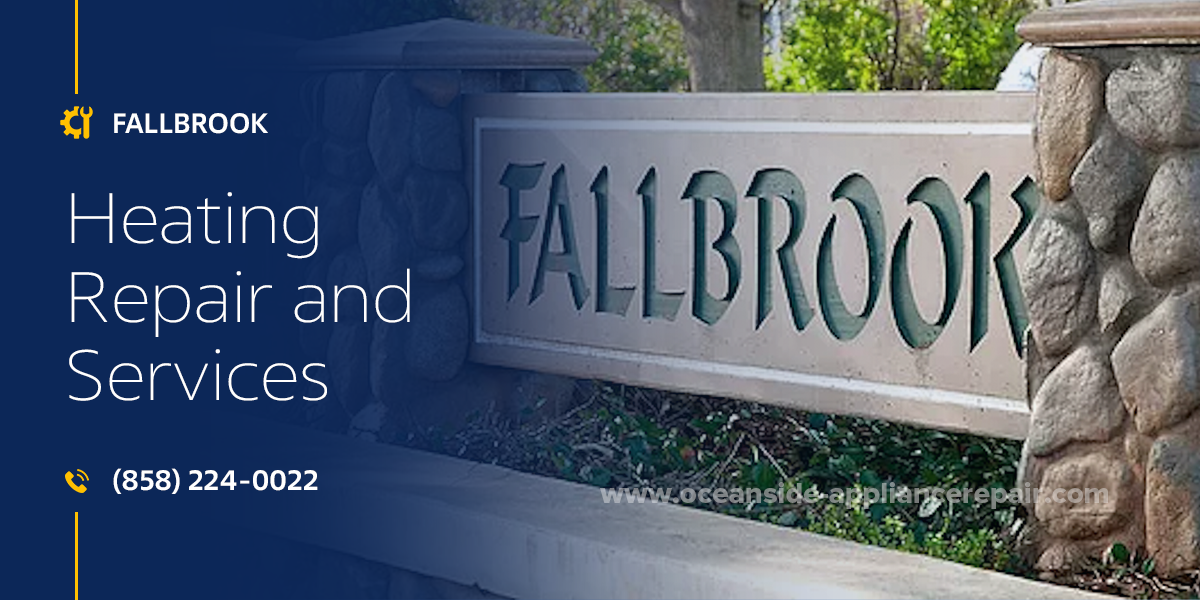 Heating Repair in Fallbrook
A rare person can feel well and productive while being cold. It makes heating appliances essential for most flats, houses, offices, and other places. And each unit requires proper care. You can get it at the top level if you apply to Oceanside Appliance Repair Service Center. Our specialists know the right techniques for effective maintenance and fixing of such items. Each Heating Repair in Fallbrook, CA we conduct is high-quality, fair-priced, and swift!
The most common situation when people apply to us for Fallbrook Heating Repair is the wrong performance after downtime. Thus, we always recommend that our clients not forget to care for their electronics, even while not using them. If you need a consultation about it, you can always get it for free if you call us. And when your item has already failed, we can swiftly clarify the situation without even touching it. Our specialists conduct a remote diagnostic to find the reason for the issue. It helps them pick the best solution and tell you its approximate cost beforehand. 
We care for your comfort first, so we are always honest with you. Our team offers the most efficient services and clearly informs you if the repair is not rational or advisable. But such situations are rare, as we can deal with anything!
With over 20 years of experience, our technicians have perfectly refined skills. They know all the subtleties of serving commercial and household heaters of all brands and models. Our professionals have licenses that prove their highest qualifications and ability to deal with luxury and the latest items. It ensures the flawless quality of each Heating Repair in Fallbrook, CA. Regardless of the complexity of the issue, we always know what to do. Apply to us as soon as you notice even the smallest malfunction. The most common troubles that may happen to heaters are listed below.
Dust or debris has accumulated on or within the coils, igniters, flue pipes, burners, flame sensors, air handlers, dampers, HVAC filters, vents, outdoor units, or condensate drains.

The appliance is not making the room warmer.

When air comes out of registers or vents, it is humid, smells unpleasant, is cold, feels too weak, or does not come out at all.

You are unable to change the required mode, temperature, or other settings.

The item heats the room slowly, unevenly, or excessively.

The device does not respond to the remote.

Buttons, knobs, keys, or switchers function incorrectly, do not react, or are damaged.

It makes too much noise while operating (e.g., a buzzing, ticking, thumping, grinding, gurgling, humming, popping, squealing, hooting, pinging, or vibrating sound).

There is a problem with or instability in the electricity or gas supply.

A spoiled cord, isolation, plug, safety valve, or ignition control prevents the item from heating.

The display board or screen is blank, shows an error message or wrong information, or does not light up at all.

The ducting system is leaking, clogged, or otherwise damaged.

Malfunctioning components, like the fan motor, compressor contactor, heat pump, thermostat, limit switch, sensors, and others.

The heat transfer liquid is leaking or dripping.

Replacements are required for bearings, belts, valves, registers, leveling feet, controllers, etc.

You detect a burning, gas, electrical, or filthy scent while the heater is on.

The appliance turns off automatically, repeatedly turns on and off, or does not turn on at all.
We provide the most durable and effective solutions. Besides the outstanding craftsmanship of our technicians, we apply top-rank equipment and materials. Thus, our team completes the most precise and neat Fallbrook Heating Repair and Service of any type. With perfectly fitting original details or their decent analogs, we ensure long and smooth performance for each unit. We always solidify our work with a 90-day labor guarantee and a 1-year detail.
You do not have to worry about the results of our work. And you also never have to stress about a huge bill, as we set the most reasonable rates. Our effective Heating Repair in Fallbrook, CA is affordable for everyone. Plus, for online booking, we offer a $25 off price. Veterans and seniors get a $30 discount. And the special deal for returning clients means a 15% lower cost. We provide cost-effective solutions and clearly inform you of what you pay for. We do not have any hidden fees, overcharge, or trick you.
Our rates remain the most favorable, even if you choose features with an extra payment. The talk is about an urgent arrival when we rush to your address within 15 minutes. It is available even on days off and during non-working hours. We care for your time and money, so you will never waste them if you apply to us. We strive to provide you with the swiftest Fallbrook Heating Repair. And in over 90% of cases, we make your item run like a clock again the same day you apply.
Our flexibility, client focus, and professionalism always bring brilliant results. Thus, our customers do not hesitate to recommend our Heating Repair in Fallbrook, CA to other people. They post tons of 5-star reviews on the net, as they experience top-level service with us. Seeing our clients happy is the best motivation for us to go on developing daily. Their trust is the best indicator of our reliability. Since 2001, we have reanimated tons of electronics and made numerous customers satisfied.
Applying to Oceanside Appliance Repair Service Center is the best option for you and your heater. Our friendly, competent, and skilled staff offers the most reliable solutions in any situation. Our local office is always open to provide you with the swiftest assistance. All you need to do is inform us that you need our help. We will arrange the most effective and high-quality Fallbrook Heating Repair and Service at the best price. 
Our specialist carries out repairs, works carefully in the process, so as not to leave behind any traces of equipment repairs, and not to spoil the appearance. After the repair is completed, our company will back it up with a 90-day labor warranty. If you encounter the same problem during the warranty period, rest assured we will return to get an appliance back up to perfectly working condition.
$30 OFF ON FIRST TIME SERVICING
Frequently asked questions
What if I have a complex repair of equipment?
Our specialist will come to your home, conduct diagnostics and offer solutions to the problem. And only after your consent, the repair will begin.
Do you have customer support?
Our managers will always listen carefully to you and give you initial recommendations on the malfunction of your equipment to determine the cost of repair. Call:
(858) 224-0022
Is the expert's visit free of charge?
If you order a call to the master through our website, you are guaranteed to get a free diagnosis of your device, and detection of breakage.