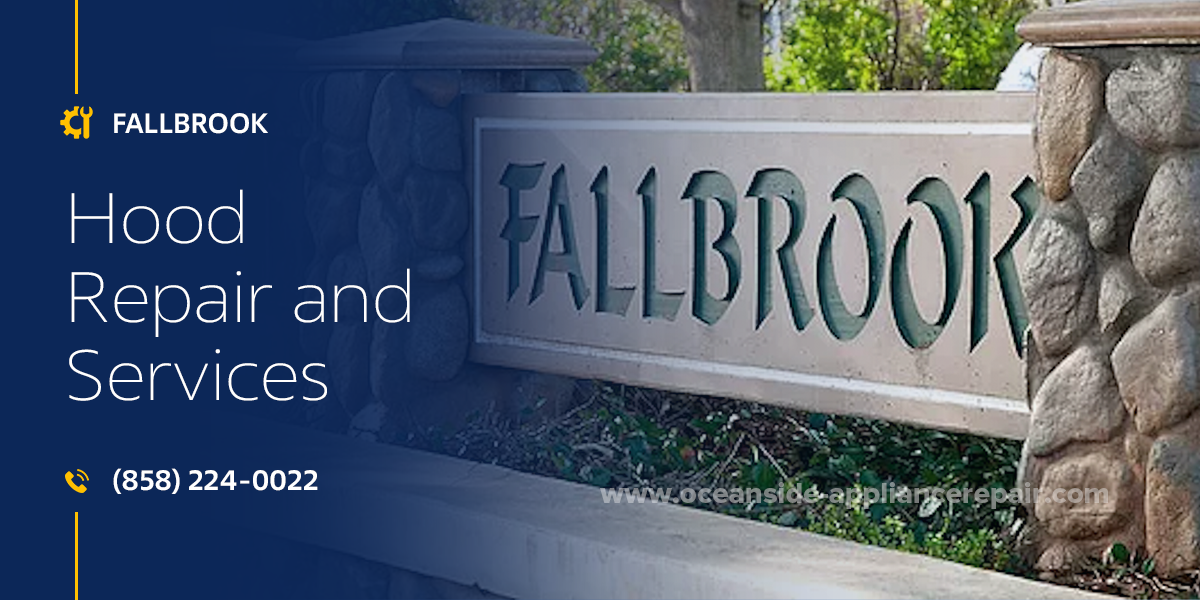 A fully functioning hood is essentially needed for each restaurant, manufacturer, and most houses. With this item, you should remember regular maintenance and timely fixing to have the surrounding air always cleaned. The most effective and stressless way to do that is by applying to Oceanside Appliance Repair Service Center. With us, you get a full spectrum of needed procedures of the highest quality. Our company provides the swiftest Hood Repair in Fallbrook, CA at the most reasonable prices.
When talking about any type of service, the main thing is its quality. And it mostly depends on the proficiency of the specialists who provide them. The quality of our Fallbrook Hood Repair is always at the top level because of a highly competent team. Our technicians have extensive experience, honed skills, and the deepest knowledge. They easily deal with any breakages in household and commercial hoods of all brands and models. They are up-to-date and can serve even luxury and the latest items owing to regular training and licensing.
We fluently cope with issues of any complexity. And it is important to understand that even if the issue seems minor, that does not mean you can ignore it. To enjoy the proper functioning of your hood, contact specialists as soon as you notice any changes. Below, you can see a list of the most common troubles that happen with hoods.

While working, the appliance emits a burning, electrical, or dirty smell.

It has a very low capacity or weak airflow for absorbing stale air.

The hood stopped absorbing smoke, steam, moisture, and odors.

Details like the fan wheel, blades, baffles, motor shaft bearings, belts, light sockets or assemblies, switches, knobs, buttons, grates, filters, etc. are broken or worn down.

The downdraft does not rise, remain elevated, or shift downward.

The lamps are not shining as brightly as they usually do, are flickering, or have completely gone out.

The hood cannot turn on or off.

Damaged wiring, isolation, or plugs disrupt the electrical supply.

There is a blockage, leak, or damage to the ducting system.

During operation, the hood vibrates, buzzes, grinds, knocks, thumps, squeals, hums, or makes other unusually loud noises.

Water drops are accumulating under, on, or inside the hood.

The fan, blower motor, driver, main control board, or another component is not functioning properly.

Dust and debris clog filters, grates, and ventilation systems.

Control board issues, including faulty controllers, loose connections, malfunctioning timers, display boards, or touchpads, prevent you from checking or adjusting any settings.

The appliance abruptly shuts off or repeatedly turns on and off.

Incorrect installation.
The highest qualification of our specialists is also reflected in the speed of their work. They find and eliminate any problems in a matter of minutes. Our company offers the swiftest Hood Repair in Fallbrook, CA, which is done within a day on 90% of orders. We also do not waste time on the road, as we have a convenient location and great logistics. It is especially useful for urgent situations when we rush to your place immediately. This option costs slightly more but is available during non-working days and hours too. 
With the best professional tools and equipment, we find and eliminate troubles not only quickly but also precisely. Our specialists carefully pick the most suitable materials and details for each Fallbrook Hood Repair and Service. The results of our work always mean the smooth and durable performance of your appliance. And you have no reason to doubt it. We solidify our work with a 1-year warranty for the details and a 90-day one for labor.
Providing guarantees is one of the signs of reliability. But we believe that an even better one is the trust of clients. Since 2001, our company has been delivering the best services, including Hood Repair in Fallbrook, CA. And people who have applied to us never regret such a choice. They come back to us to care for other electronics too, and they recommend the same to their friends. Our customers get the best offers, flawless results, and a friendly attitude. They reflect their opinion of us in tons of 5-star reviews on the net.
Another pleasant thing for our clients is the price of the Fallbrook Hood Repair we conduct. We have the most affordable rates and can adjust to any budget. Surely, we offer only cost-effective solutions and clearly report the condition of your appliance. With us, you know what you pay for and invest the fairest money into a decent service. We also have special offers. Veterans and seniors save $30 with us. For returning clients, the discount is 15%. And if you book the order online, the price is $25 off.
To plan a proper and convenient Hood Repair in Fallbrook, CA, feel free to call us. We are always happy to help you clarify the situation and provide any information. Our team offers the most useful consultations and swift remote diagnostics. After that, we clearly know the reason for the breakage and the best way to make it vanish. We announce the approximate cost of the needed work beforehand. With us, you get the most effective solution in the most comfortable way.
Rely on Oceanside Appliance Repair Service Center to avoid and eliminate any troubles with your hood. No matter what happened, our responsible and proficient specialists will make your item perform perfectly again. Any tasks we accept take us the minimum amount of time to complete, so you get a brilliant result soon. Just call us or place an online application to get qualified assistance at a favorable price. We are the most reliable provider of top-quality Fallbrook Hood Repair and Service.
Our specialist carries out repairs, works carefully in the process, so as not to leave behind any traces of equipment repairs, and not to spoil the appearance. After the repair is completed, our company will back it up with a 90-day labor warranty. If you encounter the same problem during the warranty period, rest assured we will return to get an appliance back up to perfectly working condition.
$30 OFF ON FIRST TIME SERVICING
Frequently asked questions
What if I have a complex repair of equipment?
Our specialist will come to your home, conduct diagnostics and offer solutions to the problem. And only after your consent, the repair will begin.
Do you have customer support?
Our managers will always listen carefully to you and give you initial recommendations on the malfunction of your equipment to determine the cost of repair. Call:
(858) 224-0022
Is the expert's visit free of charge?
If you order a call to the master through our website, you are guaranteed to get a free diagnosis of your device, and detection of breakage.