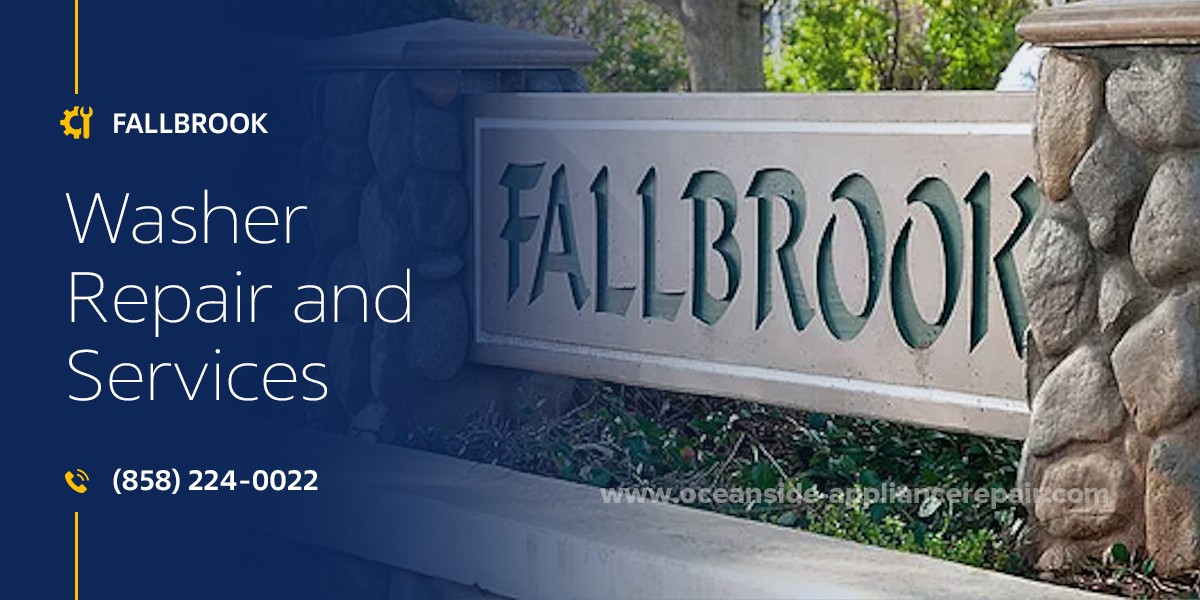 Washing Machine Repair in Fallbrook
No one can say that washing machines are useless. These appliances save us much time and effort. And, surely, they require regular maintenance and timely fixing to serve you properly for a long time. For the most effective Washing Machine Repair in Fallbrook, CA, pick a reliable company with a highly qualified team. And it is about Oceanside Appliance Repair Service Center. We are always around and ready to provide you with fair-priced and swift procedures of top quality.
If your washer fails, you may face many inconveniences and expenses. But there is no need to use a launderette when you can get your own appliance back to normal soon. Just apply to us and get the swiftest Fallbrook Washing Machine Repair! We are always open and available, so we complete the absolute majority of orders within a single day. We also have the option of urgent arrival for a small additional cost. If you pick this one, the technician rushes to your place immediately, at any time of day or night.
But there are some cases when we do not need to arrive. In some of them, we can help by giving you instructions, if that is safe and easy. In other cases, we clearly inform you if the replacement is the only rational solution. How can you find out? Just call us for a free consultation or remote diagnostic. These options are useful to find the reason for the breakage and indicate a proper solution. After, we plan the most effective Washing Machine Repair in Fallbrook, CA the way it is suitable for you.
Do not ignore even the smallest changes in the behavior of your item. It is much better to eliminate an issue before it leads to the total failure of a whole unit. Our team easily deals with issues of any complexity and helps you avoid them in the future. There are many problems that may happen with your washer. Below, you can see a list of the most common troubles with these appliances.

The appliance is tripping the power.

You cannot turn the washer on or off or it shuts off on its own.

The washing cycle takes too long, runs without stopping, cannot start or complete, or pauses midway.

Timers and controllers do not function as they should.

You cannot use the wash selector, time control, water level control, or temperature control properly.

The control panel is faulty.

The screen shows an error code or is blank.

The item does not wash or wring clothes out normally, so they are soaking wet or dirty.

The drum is cracked, misplaced, unbalanced, or not spinning.

While the item is working, it produces a burning or electrical smell.

The water inlet valve, belts, connectors, leveling feet, buttons, switches, knobs, hoses, or other details are damaged.

The appliance is not draining.

The tub has a filthy odor or mold inside.

The hardware components are out of order (motor, heating element, thermostat, pump, agitator, off-balance switch, transmission, water level controller, etc.).

A puddle of water or foam appears underneath the washer.

The water supply is disrupted, and the appliance cannot fill in with water or stop filling.

Water or detergent cannot reach the tub.

The door glass is cracked.

The door cannot close, open, or latch normally due to deformed hinges, springs, joints, interlocks, latches, lid switches, or gaskets.

The washer damages the clothes.

While washing, the appliance is moving around the room, jumping or bouncing.

The item produces a burning or electrical smell.

The light indicator goes red, flickers, or does not shine at all.

The washing machine gets extremely hot when working.

The item produces a humming, bubbling, squealing, knocking, grinding, buzzing, gurgling, thumping, vibrating, or other weird noise.

Damaged wiring, isolation, or plugs cause issues with the power supply.

The item was installed incorrectly.

Filters, pipes, hoses, seals, valves, or dispensers are obstructed with lint and dirt.
To eliminate most of those and other problems, we need to replace certain details. Surely, we aim to make it in the most effective way. Thus, our company cooperates with the best manufacturers of original components and their analogs. Picking perfectly fitting parts ensures the long and smooth performance of your appliance. Our team is equipped with top-notch professional tools and materials. Thus, you get the most precise and tidy Fallbrook Washing Machine Repair and Service. Our work is a synonym for flawless quality!
We want you to be calm about the future functioning of your washer if you entrust it to us. To show you our reliability and responsibility, we provide a long-term warranty. It is 90 days for our labor and 1 year for the details we use.
And the key reason why our procedures are durable and reliable is our team. Our technicians have vast experience that exceeds 20 years. Their skills and knowledge are brilliant, and they get better all the time due to regular training. We are qualified and competent enough to deal perfectly with luxury and the latest items. Each Washing Machine Repair in Fallbrook, CA we conduct is effective and correct. Our specialists know the proper approach for any commercial or household item, regardless of its brand and model.
Since 2001, we have served hundreds of clients. Having the friendliest attitude and offering the most suitable conditions for everyone, we care for your comfort. Therefore, our customers rate our Fallbrook Washing Machine Repair with 5 stars and leave tons of positive reviews. They apply to us again when other electronics fail and recommend us to friends. Their trust is the main indicator of our reliability. We can successfully compete with other local businesses because we offer the best service and comfort.
Besides all other features, we have the most affordable rates for each Washing Machine Repair in Fallbrook, CA. We believe that we gain more from making you satisfied than from overcharging and tricking you. Thus, our clients always know what they pay for. Our team provides decent results at a reasonable cost. We also have pleasant special deals, like a $25 discount for booking online. Veterans and seniors pay $30 less for our work. And for returning clients, the next order is 15% cheaper.
Your washing machine deserves proper care. And the smartest way to get it is to apply to Oceanside Appliance Repair Service Center. Our team knows the best approach for any item, offering only effective and high-quality service. You can rely on getting the swiftest assistance whenever you need it. Just call us or place an online application. Our friendly team will arrange the most cost-effective and rational solution for you. With us, you get the best Fallbrook Washing Machine Repair and Service in the most stress-free way!
Our specialist carries out repairs, works carefully in the process, so as not to leave behind any traces of equipment repairs, and not to spoil the appearance. After the repair is completed, our company will back it up with a 90-day labor warranty. If you encounter the same problem during the warranty period, rest assured we will return to get an appliance back up to perfectly working condition.
$30 OFF ON FIRST TIME SERVICING
Frequently asked questions
What if I have a complex repair of equipment?
Our specialist will come to your home, conduct diagnostics and offer solutions to the problem. And only after your consent, the repair will begin.
Do you have customer support?
Our managers will always listen carefully to you and give you initial recommendations on the malfunction of your equipment to determine the cost of repair. Call:
(858) 224-0022
Is the expert's visit free of charge?
If you order a call to the master through our website, you are guaranteed to get a free diagnosis of your device, and detection of breakage.