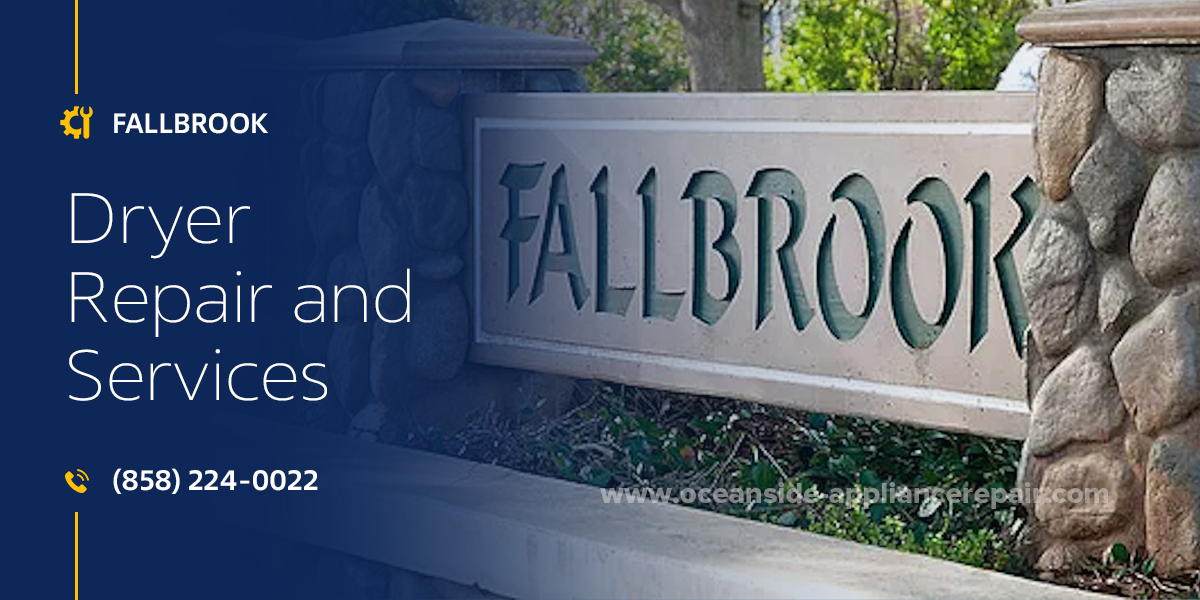 Dryer Repair in Fallbrook
Is your dryer giving you a hard time? Do not stress! Oceanside Appliance Repair Service Center is here to provide you with top-notch solutions, affordable prices, high speed, and brilliant quality. With over two decades of experience, we offer the most reliable solutions and effective services. Our team conducts the best Dryer Repair in Fallbrook, CA in conditions that are suitable for you personally!
We understand the importance of a fully functioning dryer in your daily routine. That is why we prioritize prompt and efficient service. Our convenient location, customized management, and dedicated team allow us to complete the absolute majority of orders within a day. We never make you wait long and always arrive at your address exactly on time. It also means that we are available for urgent Fallbrook Dryer Repair. This option costs slightly more but means that we rush to your place immediately, even during non-working hours and days.
And the procedures themselves do not take us much time either, as our technicians are fluent and proficient. They know everything about commercial and household dryers of all brands and models. The competence and qualifications of our team are constantly upgraded due to regular training and licensing. Thus, we perfectly serve even luxury and the latest items. We provide top-quality Dryer Repair in Fallbrook, CA regardless of the complexity of the issue!
Another aspect that is important for reaching brilliant results is the proper choice of equipment and details. By combining cutting-edge tools and materials with high-quality components, we can restore your dryer to its optimal performance. Each detail matters, so our specialists pick perfectly fitting ones. We stock a vast choice of original and alternative parts, carefully selecting the best ones. Altogether, it brings the most effective, neat, and accurate Fallbrook Dryer Repair and Service. We provide a 90-day labor guarantee and a 1-year one for the details.
Since 2001, we have repaired tons of dryers. Thus, there is no such situation that can puzzle our team. A friendly tip for you: the best idea is to resolve the problem before it becomes too serious. Thus, we recommend you call our specialists to schedule regular maintenance or fix even the smallest malfunction. Below, you can see the most common troubles that may happen to your dryer.
The item is not turning on or it shuts off on its own.

The electricity or gas supply is ruined or unstable.

The clothes remain fully or partially wet or become damaged.

The drum is not spinning, is cracked, or is unbalanced.

The item is not heating at all, or the temperature is too high or insufficient.

Some of the hardware components are faulty (cycling or high-limit thermostat, thermometer, thermal resistor, heating element, igniter, timer, motor, fuse or circuit breakers, start switch, blower wheel, etc.).

The body of the appliance heats too much while working.

Timers or controllers are not working properly.

The control panel requires recalibration.

There is an error code on the screen, or it is not glowing at all.

You cannot change any settings as needed.

The door glass is cracked, or its hinges, springs, joints, latches, lid switches, interlocks, or gaskets are out of shape.

It emits a gas, burning, or electrical smell.

The dryer is rumbling, thumping, humming, knocking, buzzing, clicking, gurgling, squealing, vibrating, rattling, or making other unusual sounds.

The tub has a filthy odor or mold.

It is drying too long, endlessly, cannot start or complete the wash cycle, or stops midway.

Troubles with the electricity or gas supply

The gas line, duct, pipes, hoses, lint filter, moisture sensor strips, or exhaust vent are dirty or blocked with grease or lint.

The installation was not correct.

Some of the details are worn off, broken, or lost (keys, knobs, buttons, switches, connectors, leveling feet, belts, bearings, drum support rollers, handles, glides, baffles, gas valves, wires, plugs, etc.).
If you have any of these or other issues, do not try to fix them or buy a new appliance. You can get a free consultation from our friendly and helpful specialists at any needed moment. It will bring answers to any of your questions and help plan an efficient Dryer Repair in Fallbrook, CA. We offer remote diagnostics as the best way to clarify the situation with a failed dryer. Our professionals swiftly find the reason for the problem and indicate the best solution.
Mostly, to make the problem vanish, the way out is to appoint our arrival. But be sure of our honesty, as in some cases we have another recommendation. We do not offer our services if the item is beyond repair. In cases where fixing it is not cost-effective, we also clearly inform you. It also sometimes happens that you just have to switch something or follow other simple instructions. Anyway, we always pick the most rational and convenient way to help you.
By applying to us, you always know what you are paying for. We do not overcharge or have any hidden fees. Our company sets the most reasonable rates for each Fallbrook Dryer Repair. Our aim is to help everyone get the best services, so our prices are fair and competitive. Plus, we have special deals, like $25 off for online bookings. The next order for returning clients costs 15% less. And for our dear seniors and veterans, we have a $30 discount.
The satisfaction of our customers is at the core of our business. We take pride in our growing list of happy clients who have experienced our attentive service and witnessed positive results. Thus, they confidently entrust other electronics to us and recommend the same to other people. You can visit our Google page at any time and see numerous honest opinions of our clients. They keep picking us for all services, including Dryer Repair in Fallbrook, CA.
Are you looking for the most reliable Fallbrook Dryer Repair and Service? Our team provides you with the best solutions in the most comfortable way. Just call Oceanside Appliance Repair Service Center or place an online application on our website. Our team instantly reacts and finds the best solution for your dryer. With our extensive experience, commitment to quality, prompt service, affordability, and customer-centric approach, we exceed your expectations. 
Our specialist carries out repairs, works carefully in the process, so as not to leave behind any traces of equipment repairs, and not to spoil the appearance. After the repair is completed, our company will back it up with a 90-day labor warranty. If you encounter the same problem during the warranty period, rest assured we will return to get an appliance back up to perfectly working condition.
$30 OFF ON FIRST TIME SERVICING
Frequently asked questions
What if I have a complex repair of equipment?
Our specialist will come to your home, conduct diagnostics and offer solutions to the problem. And only after your consent, the repair will begin.
Do you have customer support?
Our managers will always listen carefully to you and give you initial recommendations on the malfunction of your equipment to determine the cost of repair. Call:
(858) 224-0022
Is the expert's visit free of charge?
If you order a call to the master through our website, you are guaranteed to get a free diagnosis of your device, and detection of breakage.