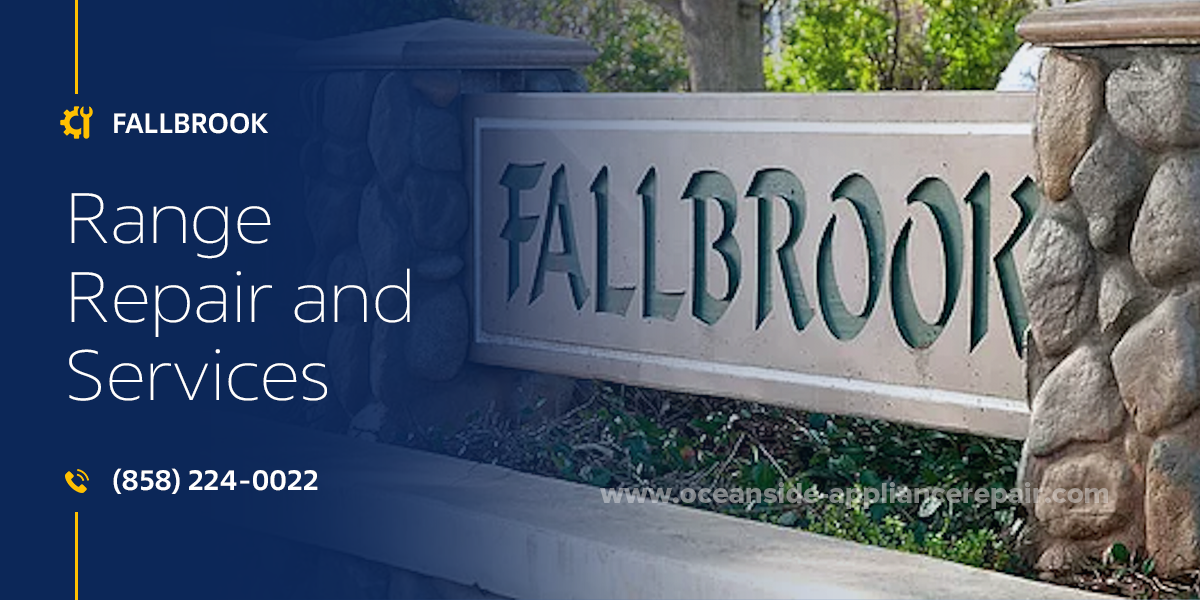 Range Repair in Fallbrook
When talking about Range Repair in Fallbrook, CA, you can easily get a swift and high-quality solution. For that, just contact Oceanside Appliance Repair Service Center. Our team is always prepared to provide you with decent service at a reasonable price. With over 20 years of experience, we perfectly know how to eliminate any issue and make our clients satisfied.
The most important aspect of each service is its quality. And our team always delivers it at the highest level! The competence and skills of our technicians ensure your appliance will operate flawlessly again soon. They provide the most reliable Fallbrook Range Repair regardless of the complexity of the issue. Our team easily deals with household and commercial appliances of all brands and models. Each of our specialists is insured and licensed. It means safe and proper service, even for luxury and the latest units.
To provide effective and durable procedures, we utilize top-notch tools. It enables us to diagnose and fix range issues accurately. Our investment in cutting-edge equipment and materials ensures optimal results for your appliance. We carefully pick the best components to deliver the most accurate and long-lasting Range Repair in Fallbrook, CA. Do not doubt the future functioning of your item if you entrust it to us. We are in charge of what we do and solidify our work with a long-term warranty. It is 90 days for labor and 1 year for the details we use.
We also offer free consultations, which give you any information you need about caring for your electronics or cooperating with us. If your item has already failed and you want to plan the best repair, we offer remote diagnostics. This way, we can indicate which Fallbrook Range Repair and Service are best for your case. Surely, if it is not cost-effective or recommendable, we will let you know. By calling us, you swiftly clarify the condition of your unit, the needed procedures, and their approximate cost.
To make the solution the most effective, we should fix your range before it totally fails. Thus, we advise you to apply to us as soon as something goes wrong. The most common troubles that happen to ranges are listed below.

You are unable to switch the appliance on.

The hinges, springs, joints, latches, lid switches, interlocks, or gaskets are bent, making it impossible to open, close, or latch the door.

The glass in the door is fractured.

Some hardware components (bake element, broiler element, tan, electrical or induction coils, burners, grills, thermostat, convention fan, timer, circuit board, fuse, motor, etc.) must be replaced.

Heating elements do not function.

A broken ignition or gas safety valve interrupts the gas supply.

When you switch the burners on, you hear hissing or clicking.

The flame spontaneously extinguishes, is sparking or arcing, or has an uncommon hue, such as red, yellow, or orange.

The shelves are unable to move because the drawer mechanism is broken.

The control module does not have a good connection to the controllers or coils.

Because the induction surface is broken, filthy, or scratched, the temperature sensors are flipping.

The display board or information screen displays incorrect information, an error message, or is not operational.

The temperature cannot be adjusted to the desired level.

The item heats up too quickly, too slowly, unevenly, or too weakly.

The range is knocking, thumping, vibrating, buzzing, squealing, grinding, rattling, or emitting other unsettling sounds.

The interior light or exterior indicator is burned out.

Dust, debris, or crumbs obstruct the convection fan, vent tube, gas ports, and gas line.

The item emits a scent of burning, electricity, or gas.

Wires, isolation, plug, fan blades, baffles, belts, burner covers, grates, light assembly, buttons, knobs, switches, leveling feet, bearings, handles, and other components have been lost, weakened, or worn out.
A failed range causes not only downtime in cooking at home or in a restaurant. It may also mean danger, especially if your item deals with gas. Thus, it is important to get the needed Range Repair in Fallbrook, CA as soon as possible. We prioritize the swiftest completion of all tasks, so we finish over 90% of orders within a single day. Our convenient location, customized management, and logistics allow us to spend the least amount of time on the road. Plus, we offer urgent arrivals during days off and after hours for a small extra payment. In such a case, we rush to your place immediately!
Our pricing is designed to be affordable without compromising the standard of our work. We adjust to any budget and have pleasant special deals. The discount for returning clients is 15%. For online booking, it is $25, and for seniors and veterans, it is $30. Our Fallbrook Range Repair is the most fair-priced, as we are always honest with our clients. With us, you only get efficient solutions without overpaying or other unpleasant things.
Customer satisfaction is our key goal and the best indicator of our reliability. Since 2001, we have provided hundreds of people with the most effective Range Repair in Fallbrook, CA. Each of them experiences a friendly attitude, professionalism, and flawless quality. Thus, our clients return to us with other tasks and recommend us to other people. They also post tons of positive reviews on our Google page. With the best approach and brilliant results, we successfully compete with other local service providers.  
Choosing Oceanside Appliance Repair Service Center ensures top-quality results swiftly and at a favorable price. Trust us to restore your range's functionality and cooking convenience shortly and in a comfortable way for you. All you need to do is just call us or fill out the contact form on our website. Our responsible and qualified team provides you with the best Fallbrook Range Repair and Service!
Our specialist carries out repairs, works carefully in the process, so as not to leave behind any traces of equipment repairs, and not to spoil the appearance. After the repair is completed, our company will back it up with a 90-day labor warranty. If you encounter the same problem during the warranty period, rest assured we will return to get an appliance back up to perfectly working condition.
$30 OFF ON FIRST TIME SERVICING
Frequently asked questions
What if I have a complex repair of equipment?
Our specialist will come to your home, conduct diagnostics and offer solutions to the problem. And only after your consent, the repair will begin.
Do you have customer support?
Our managers will always listen carefully to you and give you initial recommendations on the malfunction of your equipment to determine the cost of repair. Call:
(858) 224-0022
Is the expert's visit free of charge?
If you order a call to the master through our website, you are guaranteed to get a free diagnosis of your device, and detection of breakage.