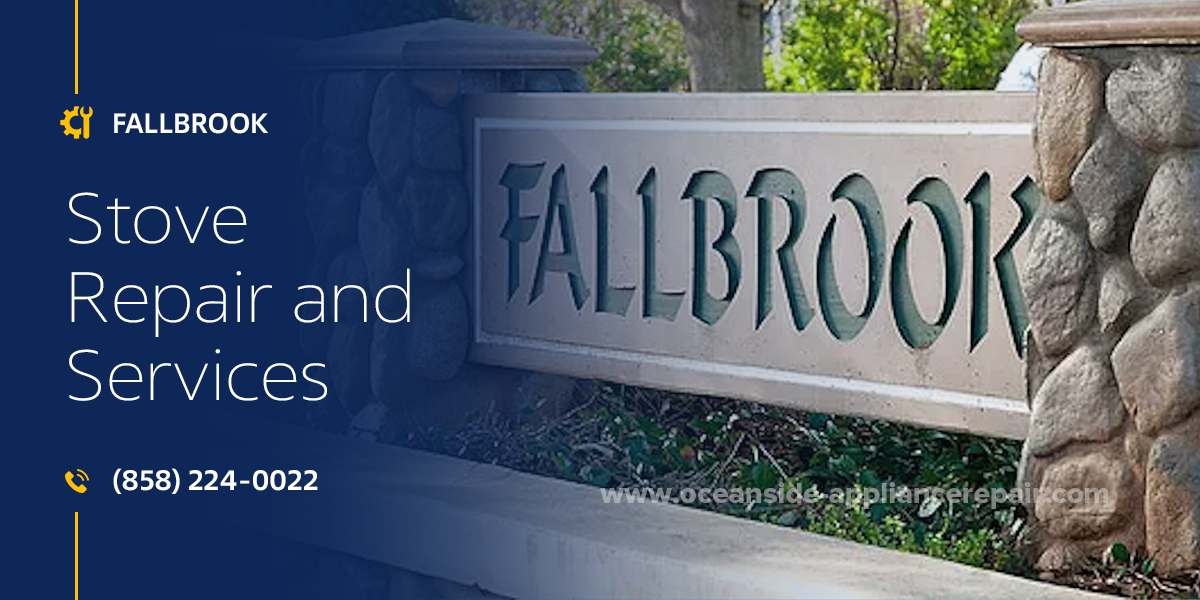 Stove Repair in Fallbrook
If you face or want to avoid any issues with your stove, just apply to Oceanside Appliance Repair Service Center. We offer a whole range of services for these appliances. Our knowledgeable and responsible team performs each procedure with high quality and efficiency. We care most for the comfort of our clients. Thus, we provide the best Stove Repair in Fallbrook, CA in the shortest terms and at the most reasonable prices.
Most stoves deal with gas, which makes these units especially dangerous. It means that you should be attentive to the condition of your appliance. Contact specialists if you notice any changes, including weird sounds or worn details. Below, you can see a list of the most common troubles that happen to stoves.

While on, the appliance emits a burning, gas, or electrical odor.

It is working too loudly, making unusual noises like thumping, grinding, gurgling, squealing, squeaking, humming, buzzing, knocking, etc.

Burners are hissing, clicking, arcing, or sparking.

The level of heat or flame is too high or too low.

The flame is flickering, going off itself, or having an improper color (red, orange, or yellow).

It is not cooking evenly.

It is not possible to set the needed temperature, time, or mode.

Timers or controllers do not respond.

Due to broken hinges, gaskets, springs, joints, interlocks, lid switches, or hooks, the door cannot close, open, or latch.

The stove produces no flame or heat.

Any of the heating components (burners, tans, electrical/induction coils, bake elements, broiler elements, grills) do not function.

The electrical coils have a poor connection.

A scratched induction surface causes sensors to flip.

Damaged or missing parts like buttons, switches, knobs, fan blades, baffles, grates, burner covers, seals, leveling feet, belts, etc.

There are cracks in the body surface or door glass.

There is a problem with the external or internal lights (flickering, burned-out, or not shining).

The display board is either completely dark, is displaying an error, or does not glow.

The control module requires recalibration.

Worn-out wires, plugs, isolation, gas lines, igniters, or safety valves compromise the gas or electricity supply.

You are not able to switch the appliance on or off.

The stove turns off on its own.

The appliance emits a gas, burning, or electrical smell.

Dust and crumbs block the gas line, gas ports, convention fan, or vent tube.

The thermostat, pilot light, fuse, convection fan, or other component is malfunctioning.

The racks do not slide out because the drawer mechanism is bent out of shape.
Our technicians have resolved these and other issues many times before. They have over 20 years of experience reanimating household and commercial stoves of all brands and models. Plus, our team regularly undergoes training and licensing to ensure proper qualification for serving luxury and the latest items. They know the functioning and construction of these items perfectly, so they conduct flawless Fallbrook Stove Repair. 
Besides the craftsmanship of our team, we have the best professional equipment, tools, and materials. That ensures the neatest and most accurate services according to the highest quality standards. Another important moment is a proper choice of components, as each detail has an important role. Our team picks matching details for each Stove Repair in Fallbrook, CA we conduct. We have a huge variety of them in stock, so we pick perfectly suitable parts for each item and budget.
We take pride in providing our clients with a comprehensive range of services that are tailored to their specific needs. With our commitment to quality work and personalized recommendations, we are dedicated to exceeding your expectations at every turn. Such an attitude, together with brilliant results, makes our clients happy to pick us. Thus, they recommend our Fallbrook Stove Repair and Service to others and apply to us again. Our customers post tons of positive reviews on the net, sharing a pleasant experience with us.
At our company, we understand that trust is earned through hard work, dedication, and a commitment to excellence. That is why we stand behind the quality of our work with a warranty. It is a 90-day guarantee for our labor and a 1-year guarantee for the details we use. Our guarantee reflects our confidence in our ability to provide you with the highest quality service available. 
We care for your comfort and know that a failed stove may cause financial stress for you. But not with us! We believe that everyone should be able to afford decent Stove Repair in Fallbrook, CA. Thus, we have the fairest rates for each procedure. Our specialists find the most efficient solutions and report all the expenses to you. Thus, you have no reason to doubt that you invest in proper service. Plus, you save $25 if you book the order online. We also have a $30 discount for veterans and seniors and a 15% one for returning clients.
You can also find out the approximate cost of the needed Fallbrook Stove Repair beforehand. To clarify this and other information, just call us for a remote diagnostic. Our proficient technicians can find the reason for the malfunction even without touching your appliance. This way, we plan the needed procedures and prepare the details. Our friendly team is also always ready to provide you with a free consultation and answer any of your questions. Together, we find the most suitable way to make your electronics serve you properly for many years!
We understand how frustrating it can be to deal with a malfunctioning stove. This is why we make it our top priority to get your appliance back to normal as quickly as possible. For that, we have picked the best location for our office and customized management and logistics perfectly. Thus, we complete over 90% of orders the same day we get an application. You can also expect to get urgent Stove Repair in Fallbrook, CA if you need it. We are available 24/7 and ready to rush to your address immediately for a small emergency fee.
Oceanside Appliance Repair Service Center is a reliable service provider that takes your stress related to failed electronics away. With our experienced technicians and top-of-the-line equipment, you can trust us to get the job done right. So why wait? Contact us today to schedule the best Fallbrook Stove Repair and Service. Our team organizes the most convenient solution for any situation. We conduct high-quality procedures at the most affordable prices and in the shortest terms.
Our specialist carries out repairs, works carefully in the process, so as not to leave behind any traces of equipment repairs, and not to spoil the appearance. After the repair is completed, our company will back it up with a 90-day labor warranty. If you encounter the same problem during the warranty period, rest assured we will return to get an appliance back up to perfectly working condition.
$30 OFF ON FIRST TIME SERVICING
Frequently asked questions
What if I have a complex repair of equipment?
Our specialist will come to your home, conduct diagnostics and offer solutions to the problem. And only after your consent, the repair will begin.
Do you have customer support?
Our managers will always listen carefully to you and give you initial recommendations on the malfunction of your equipment to determine the cost of repair. Call:
(858) 224-0022
Is the expert's visit free of charge?
If you order a call to the master through our website, you are guaranteed to get a free diagnosis of your device, and detection of breakage.