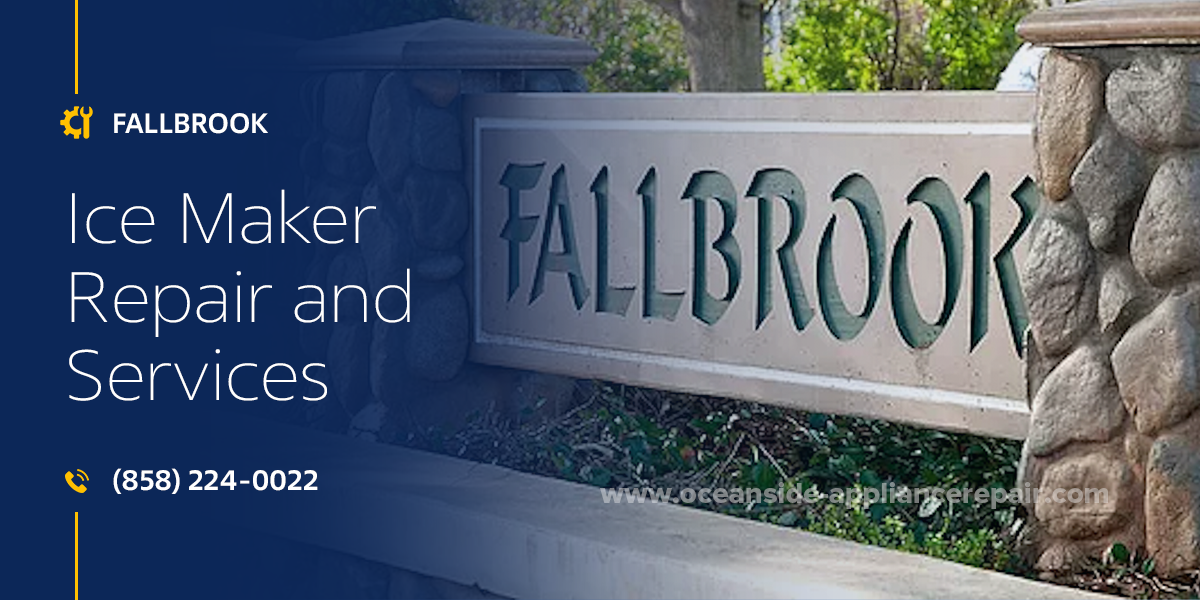 Ice Maker Repair in Fallbrook
At Oceanside Appliance Repair Service Center, we understand how frustrating it can be to have a malfunctioning ice maker. Especially when you need it the most for your cafe, restaurant, or just at home. That is why we are always ready to make your troubles vanish swiftly and at a favorable price. The brilliant qualifications and responsibility of our team bring the highest quality to each Ice Maker Repair in Fallbrook, CA.
We believe that excellent customer service is key to building a strong and long-lasting relationship with our customers. Our friendly team is always ready to assist you with any concerns or questions that you may have. We value our customers' satisfaction and always go the extra mile to ensure that they are happy with our service. As a result, clients leave numerous positive reviews about our Fallbrook Ice Maker Repair on the net. They entrust all their appliances to us and recommend our company to other people.
We are proud to offer our clients a wide range of procedures that meet their individual needs. With over 20 years of experience, we have become the go-to repair service for ice maker issues. Our team is competent and qualified, so we provide top-quality Ice Maker Repair in Fallbrook, CA. Regardless of the brand and model of your item, we will find an effective solution. Our technicians are licensed to handle luxury and the latest items too. We continuously update our skills to keep up with the newest trends and technologies in the field. 
We also carefully pick the best components and equipment for our work. And their quality and perfect fitting make each Fallbrook Ice Maker Repair and Service neat and accurate. We use proper tools and materials that influence the speed and durability of the procedures we conduct. Our specialists choose suitable spare parts for any commercial or household item. We deliver flawless results and are responsible for what we do. Thus, we provide our work with a 1-year warranty for the details and a 90-day one for our labor.
We are also committed to offering our clients affordable prices without compromising on quality. We believe that everyone should have access to high-quality services, which is why we keep our prices competitive. Each Ice Maker Repair in Fallbrook, CA we offer is cost-effective and rational. You always know what you pay for. Plus, our clients get special offers, like a $25 discount for booking online. Returning customers pay 15% less when they apply to us again. We also have a $30 discount for veterans and seniors.
In addition to our exceptional services, we also offer free consultations to our clients. During them, we take the time to understand your needs and provide you with personalized recommendations. We also offer swift and effective remote diagnostics. It allows us to quickly identify any issues and provide you with the best possible solution. Then, we announce the approximate cost of the needed Fallbrook Ice Maker Repair to you. But in some cases, we have to recommend a replacement. If our arrival is not needed, we will honestly inform you.
Your appliance will serve you faithfully for many years if you pay proper attention to it. If even a minor issue happens, the best idea is to eliminate it sooner. This way, you avoid serious breakage and ensure the working condition of the item. To get instructions or plan the most effective solution, contact us anytime if you are facing these or other issues:

It stopped making ice.

The cubes have an incorrect size, consistency, or form.

There are strange noises coming from the ice maker, such as buzzing, squealing, knocking, humming, clicking, gurgling, bubbling, etc.

There is leakage or dripping coming from the water or the coolant in the ice maker.

Drops of water are condensing under the device.

The cubes are encased in ice molds and cannot be easily extracted.

The water supply (water line, supply valve) or electricity supply (wiring, isolator, plug) is disrupted.

The ice cubes have an unpleasant flavor or odor.

The door's hinges, springs, joints, interlocks, lid switches, or gaskets are deformed, blocking it from latching, closing, or opening normally.

The ice basket is not getting filled with ice.

The motor, compressor, gearbox, sensors, control board, fan, control arm, ice-cutter mechanism, thermostat, and other parts are not working.

The cubes fall into the basket after it has already been filled.

The temperature is inaccurate, and it is not possible to adjust it.

Defective power switches, filters, supply valves, seals, inlet pipes, belts, leveling feet, buttons, knobs, baffles, blades, flaps, bearings, inner tubes, or other items require replacement.

The appliance cannot power on, or it shuts off on its own.

Controllers, timers, display boards, and screens fail.

The water line, water tank, water pump, or filter is full of dirt.
With us, any troubles vanish quickly. We understand that time is of the essence. Thus, we work quickly and efficiently to ensure that your task is completed within the shortest possible timeframe. Our team finishes Ice Maker Repair in Fallbrook, CA within a single day in over 90% of orders. In addition to our standard offerings, we also offer an option for urgent arrival for a small additional payment. It ensures that you receive help when you need it most, even during days off and non-working hours. 
Oceanside Appliance Repair Service Center has been a reliable and trustworthy repair service provider since 2001. Our team of licensed professionals is highly trained to resolve any issues with electronics. We have a friendly team that is always ready to assist you. Choose us for Fallbrook Ice Maker Repair and Service and experience the best possible service. We provide high-quality procedures at the best prices at any time that is suitable for you.
Our specialist carries out repairs, works carefully in the process, so as not to leave behind any traces of equipment repairs, and not to spoil the appearance. After the repair is completed, our company will back it up with a 90-day labor warranty. If you encounter the same problem during the warranty period, rest assured we will return to get an appliance back up to perfectly working condition.
$30 OFF ON FIRST TIME SERVICING
Frequently asked questions
What if I have a complex repair of equipment?
Our specialist will come to your home, conduct diagnostics and offer solutions to the problem. And only after your consent, the repair will begin.
Do you have customer support?
Our managers will always listen carefully to you and give you initial recommendations on the malfunction of your equipment to determine the cost of repair. Call:
(858) 224-0022
Is the expert's visit free of charge?
If you order a call to the master through our website, you are guaranteed to get a free diagnosis of your device, and detection of breakage.