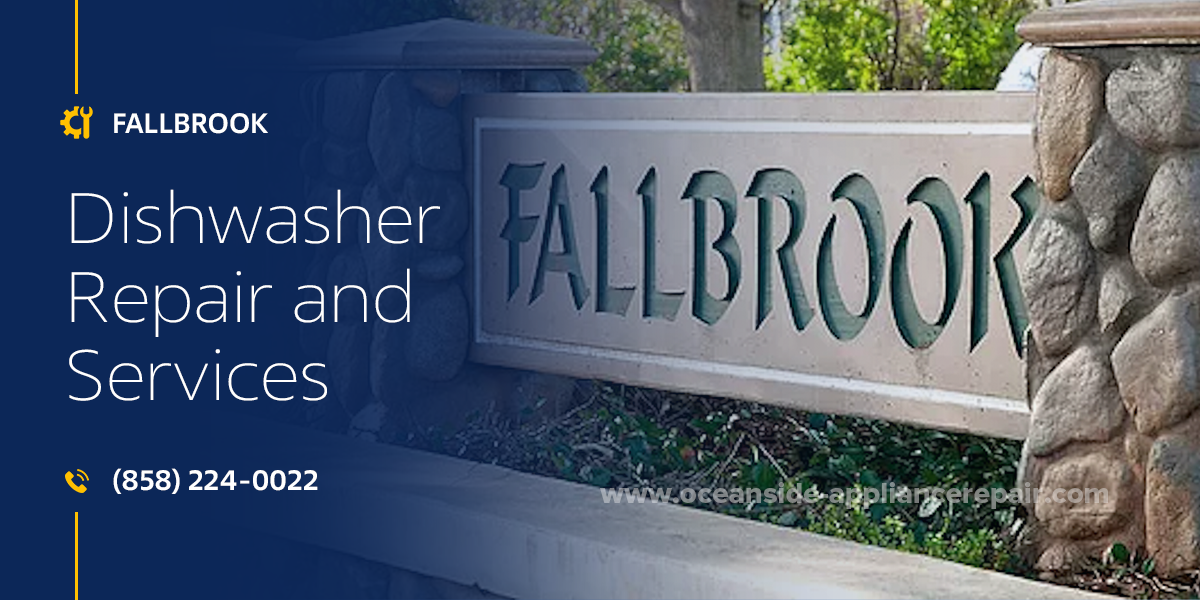 Dishwasher Repair in Fallbrook
Dishwashers are essential appliances that streamline our kitchen routines. When facing dishwasher issues, like the need to install, maintain, or fix it, apply to Oceanside Appliance Repair Service Center. Our team brings over two decades of experience, which means excellent proficiency and a perfect understanding of the client's needs. We provide all types of procedures at the highest quality level. With us, you get the most reliable and swift Dishwasher Repair in Fallbrook, CA at the most favorable price.
We take pride in delivering excellent-quality Fallbrook Dishwasher Repair. Our skilled technicians are equipped with the knowledge and expertise to diagnose and resolve a wide range of issues. They know all the subtleties of dealing with commercial and household units. They are also licensed to handle the latest and luxury dishwasher models, regardless of their brand and model. The perfectly honed skills and outstanding knowledge of our technicians are getting better constantly as our team undergoes regular training. Rest assured that your dishwasher is in capable hands with us. 
We prioritize efficiency and convenience. Thus, we offer free consultations and remote diagnostics before our arrival. These swift and effective services help us quickly assess the problem and provide accurate recommendations, saving you time and effort. Our friendly and experienced team gladly shares advice and instructions for proper care and eliminating minor issues. But most problems still require the touch of a qualified specialist. We strongly recommend you not try fixing your dishwasher without the supervision of a professional with specific knowledge. The best thing is to call us and explain what makes you worry.
Even the smallest malfunction is a reason to apply to us for Dishwasher Repair in Fallbrook, CA. Each detail has an essential role in the whole system. Thus, all of them should be in proper condition to ensure the smooth and long functioning of your item. Below, you can see a list of the most common signs that your dishwasher requires assistance.

The spray arm is blocked or cannot rotate properly.

The filters, pipes, hoses, and sump strainers are dirty or obstructed.

Water cannot reach the tub because there is insufficient circulation or pressure.

The water inlet valve is defective, so the dishwasher cannot fill with water or fills non-stop.

Dishes remain dirty, oily, or covered with pieces of food or foam.

The door cannot properly latch, close, or open due to deformed hooks, hinges, joints, lid switches, latches, or gaskets.

The tub is cracked or defective.

Water and foam are leaking outside the appliance.

The dishwasher is too noisy while working (vibrating, humming, squealing, buzzing, bubbling, clicking, knocking, squeaking, etc.).

The appliance is not draining.

The circuit breaker is tripped or the fuse is blown.

The power supply is ruined due to damaged wiring, isolation, or plugs.

The control board or timer is faulty.

It is not possible to adjust any settings as needed.

The screen or display board shows an error message or is not glowing.

Dysfunctional components, like a thermostat, heating element, motor, pump, etc.

The tub has a foul smell, mold, or mildew.

While working, the appliance emits an electrical or burning smell.

The detergent dispenser is clogged or malfunctioning.

The item has rust or corrosion inside.

The wash cycle takes too long, goes non-stop, pauses midway, or cannot start or complete.

Buttons, handles, keys, knobs, switches, connectors, cutlery baskets, holders, leveling feet, belts, insulation, pipes, hoses, float switches, or other details are damaged.

The racks cannot roll out because the drawer mechanism is spoiled.

The appliance shuts off itself or cannot turn on.

The item gets extremely hot while working.

The LED indicators or lamps are not shining.
Our team knows the best solution for any of those and other situations. After diagnostics, we swiftly plan the needed procedures, pick the proper details, and announce the cost of the work. But if our services are not required or cost-effective in your case, we honestly recommend a replacement.
We always aim to make top-quality dishwasher repairs accessible to all. Our pricing is reasonable and affordable, ensuring you receive the best value for your investment. Our team always picks the most rational solutions and clearly lets you know what you pay for. Besides offering fair-priced Fallbrook Dishwasher Repair and Service, we also adjust to any budget and have pleasant discounts. If you book the order online, it is $25 off. Veterans and seniors always pay $30 less. And returning clients have a special deal, which means a 15% discount.
The price often depends on the components that need to be replaced. And thus, by storing a variety of original and alternative details, we have a match for each wallet and appliance. We care about making your dishwasher perform smoothly for a long time. Thus, our technicians use top-quality components, materials, and equipment. You can be sure of getting the most reliable and effective Dishwasher Repair in Fallbrook, CA, with us. Plus, we solidify each of them with long-term warranties. They are 90 days for labor and 1 year for details.
With a large number of satisfied clients, we have earned a reputation as a reliable Fallbrook Dishwasher Repair provider. Our friendly and professional team consistently strives to exceed customer expectations. Thus, we have the best attitude towards our clients and their electronics. They entrust us with all of their units because they are satisfied with all of the terms of our cooperation. You can read more about it on our Google page. Our clients share their positive opinions about our quality, rates, speed, and other aspects. They often recommend us to friends, which is the best appraisal for us!
If you apply to us, you can expect not only solid and effective results but also the swiftest ones. Always around and open, our local department offers same-day Dishwasher Repair in Fallbrook, CA, for over 90% of orders. We appreciate your time and comfort, so never make you wait long. Our team provides time-efficient solutions owing to the most convenient location and perfectly customized management and logistics. We are also available for urgent orders. It means an immediate departure of the specialist at your address 24/7 for a small extra payment.
With Oceanside Appliance Repair Service Center, your dishwasher will be in the best hands. Our experienced and caring team conducts all procedures at the highest quality level, ensuring optimal performance for years to come. Regardless of what happened, just call us or place an online application. This way, you get the most reliable Fallbrook Dishwasher Repair and Service at the best price. We make your electronics perform like brand-new ones in the shortest terms!
Our specialist carries out repairs, works carefully in the process, so as not to leave behind any traces of equipment repairs, and not to spoil the appearance. After the repair is completed, our company will back it up with a 90-day labor warranty. If you encounter the same problem during the warranty period, rest assured we will return to get an appliance back up to perfectly working condition.
$30 OFF ON FIRST TIME SERVICING
Frequently asked questions
What if I have a complex repair of equipment?
Our specialist will come to your home, conduct diagnostics and offer solutions to the problem. And only after your consent, the repair will begin.
Do you have customer support?
Our managers will always listen carefully to you and give you initial recommendations on the malfunction of your equipment to determine the cost of repair. Call:
(858) 224-0022
Is the expert's visit free of charge?
If you order a call to the master through our website, you are guaranteed to get a free diagnosis of your device, and detection of breakage.